A year ago we bought a house that had been occupied by 5 college renters! You've seen the
transformation we did in the kitchen.
The exterior had seen its day. They grass was a breeding ground for mosquitos, there were no flower beds to speak of, the entire house was painted the same ugly color as the brick. I told my husband when we bought the place that the one thing I HAD to do was fix up the outside. My feeling about a house is nobody cares what the inside looks like if the outside is still ugly. Right?
So here is our beginning point... After a few years of 5 dudes "taking care of it"
The During... primed and ready to go!
Finished and waiting for the final touches...
We finished up the porch with new light, door hardware & house numbers.
Eventually I'd like to have two rockers on the porch but for now this wicker chair serves the same purpose. The little table is a TV tray which I got for FREE from a sweet friend and I've spray painted it black. I have a citranella candle on it to help keep our pesky Texas mosquitos away!
The final result! I'm pretty excited about how it turned out! I feel like our house is no longer the ugliest on the block! Maybe just maybe it's the best looking one?!
The window to the left of the door isn't normally that bright... obviously I could improve on my photography skills! :) And I think I see another project in my future with our leaning tower of a mailbox.
UPDATE: Thanks to Renae for asking you can now know our paint colors... Brick: Benjamin Moore "Crownsville Gray", Shutters: Sherwin Williams "Tricorn Black", Door: Sherwin Williams "Stolen Kiss" as for the trim... I can't remember...but it was some sort of creamy white.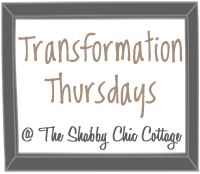 Thrifty Decor Chick
Nesting Place